The beachside seat of Maroubra in Sydney's east is a breeding ground for Labor premiers.
There have only been four MPs to hold the seat since its inception in 1950 and two of those went on to be premier. The new Labor leader and Maroubra MP, Michael Daley, is hoping to be the third.
Mr Daley, who seized the leadership yesterday after Luke Foley was forced from politics over a damaging harassment scandal, replaced the former premier Bob Carr in parliament in 2005.
It was Mr Carr who inspired Mr Daley to enter politics and the former corporate lawyer says it will be Mr Carr's commitment to the environment that will influence his policy commitments.
Loading
"Under this government, there has been a war on trees. They have had absolutely no interest in the protection of the environment," Mr Daley, 53, said. "But what you will see with me, is a return to the good days of the Carr government when it comes to the environment."
In his maiden speech in 2005, Mr Daley highlighted the environment as "an area which greatly concerns me".
"Whilst time does not permit a general discourse on the subject, I nominate global warming as the most pressing environmental threat of our times," he said at the time.
Mr Daley, who has held the planning portfolio for several years, said another key focus would be the regions and western Sydney, the key battlegrounds for Labor if they are to win in 2019.
But the state's congested capital would also be a priority.
"We have been working for some time on a set of comprehensive policies to make Sydney more liveable because it is not fair that the north shore and the northern beaches are protected from over-development," Mr Daley said. "There is much unfairness in the planning system that we
need to fix."
He said the party's existing policy on population and immigration would be strengthened.
"I will challenge the Federal Government that if it is going to send 1200 new people to NSW a week, then they will have to stump up with funding for city-shaping projects," Mr Daley said.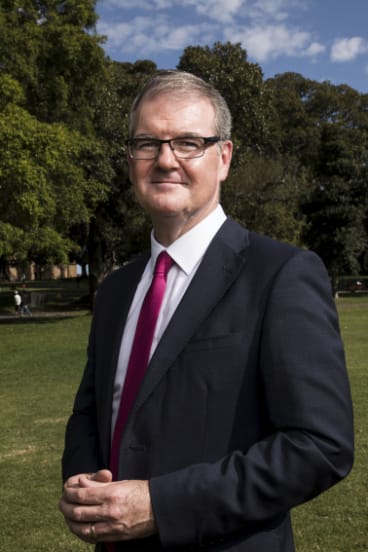 He is also committed to keeping the state's lock-out laws but wants to improve Sydney's night time culture so the city "is safe but still has atmosphere".
"I'll be taking the time to revisit our policies to shape them to my beliefs," Mr Daley said. "New leaders have the right to bring their priorities to the table and I will be tweaking things to my liking. We will be seeing regular policy announcements from now until the election."
The father of four was born and bred in Maroubra. He went to school at Marcellin College in nearby Randwick and joined the Maroubra branch of the Labor Party when he was 27.
"I come from a typical suburban middle-class Australian family," Mr Daley said in his maiden speech. Thirteen years on from that speech, Mr Daley says his values have not changed.
"When we reflect on what has happened in the past week, it is important to remember that they were personal failures, not political failures," Mr Daley said. "They were personal failures by a couple of male MPs, not Labor failures, which is a party which has always had respect for women and all people."
Mr Daley said he wanted the behaviour and culture of the country's oldest parliament to improve.
"The people of NSW do not pay us to walk into the chamber and throw mud," he said. "I've issued a challenge to Gladys Berejiklian to the lift the standard and behaviour in parliament because what we have seen in recent weeks has been nothing but grubby."
Alexandra Smith is the State Political Editor and a former Education Editor at the Sydney Morning Herald