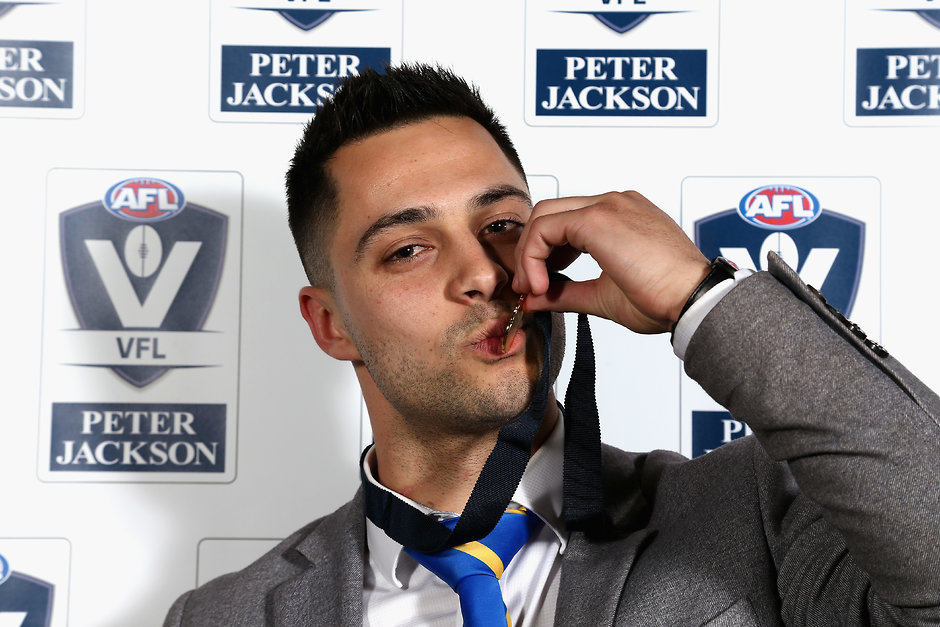 Will this be the year Michael Gibbons gets drafted?
THERE has been an increased focus on mature-age players making their way onto AFL lists from state league clubs following the success stories of several clubs in the last few seasons.
Already we have seen players make their way onto AFL lists via the special compensation picks afforded to Gold Coast and Carlton with Josh Corbett (Gold Coast), Chris Burgess (Gold Coast), Sam Collins (Gold Coast), Nathan Kreuger (Geelong) and Shane McAdam (Adelaide) all finding homes.
There are several players pushing their case for an opportunity in upcoming NAB AFL Drafts and AFL.com.au has taken a look at the best prospects still available.
VFL
Brett Bewley
Height: 186cm
Weight: 83kg
DOB: 14/4/95
Club: Williamstown
Bewley was one of the strongest performers in the NAB AFL State Draft Combine and his test results – a 2.99 in the 20m sprint and a recorded time of 22.4 in the YoYo endurance test (the best out of the national and state testing) were testament to the work he puts into his craft. Bewley, 23, is a carpenter by trade and he enjoyed a productive season with Williamstown, gathering the fourth-most disposals in the competition. He's a strong body, he kicks the ball well and he's good overhead. A strong chance to be drafted.
Michael Gibbons
Height: 175cm
Weight: 73kg
DOB: 15/5/1995
Club: Williamstown
Gibbons has been around the draft mark for a number of years but his ability to consistently win the football – he led the VFL competition in disposals (28) – has many believing this could be his year to get picked up. Gibbons tied with then Tiger, now Sun Anthony Miles for the VFL's Liston Trophy, becoming just the eighth player in history to win the award twice. Projects as a late pick or rookie selection.
Nick Hind
Height: 181cm
Weight: 70kg
DOB: 19/8/1994
Club: Essendon VFL
Hind has speed and lots of it. His two-bounce running dash through the middle of the ground to set up James Stewart's semi-final winning goal against Richmond was spectacular and would have had recruiters sitting up to take notice. Reaffirming his pace, Hind ran 2.94 seconds over 20m at the state combine. Projects well at the next level given his upside and likely to earn an opportunity. The Bombers are believed to be keen on their state league product.