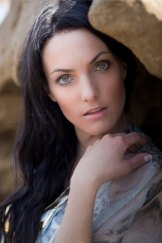 A former female prison officer has been charged after she was allegedly involved in a romantic relationship with an inmate in a Sydney prison.
Tara Brooks, 33, has been dismissed by the operator of the prison, GEO Group, over the alleged relationship.
Police began investigating after they received reports that a corrections officer had been involved in an inappropriate relationship with a male inmate at Parklea Correctional Centre.
Following inquiries, she was arrested at a home at Stanhope Gardens, in Sydney's north-west, on Wednesday.
Police will allege in court her relationship with the 41-year-old minimum-security inmate compromised her role as a corrections officer.
Ms Brooks, who has been released on bail, will appear in Blacktown Local Court on March 7, charged with engaging in a relationship with an inmate, causing a safety risk to a correctional centre.
She is the first person to be charged with the offence since the legislation was introduced last year.
A Corrective Services NSW spokeswoman said the charges against Ms Brooks did not relate to sexual contact.
The male prisoner is being held in segregation and will be transferred to another prison, the spokeswoman said.
Ms Brooks is a former dancer and model. On a web page advertising her modelling work, she writes: "I am a very happy and energetic person. Reliable to work with. Always looking for new opportunities to expand my portfolio and work prospects."
She lists her expertise in fashion, lingerie and catwalk modelling along with body painting. According to her CV, she has also worked as an extra on the TV series Underbelly.