The accused Claremont serial killer allegedly accessed "extreme" BDSM pornography, which state prosecutors argue should form part of the evidence during his trial.
Bradley Robert Edwards has pleaded not guilty to the murders of Sarah Spiers, 18, Jane Rimmer, 23, and Ciara Glennon, 27, in 1996 and 1997.
The 50-year-old has also denied raping a 17-year-old girl in Karrakatta Cemetery in 1995 and attacking an 18-year-old woman in her Huntingdale home in 1988.
Mr Edwards, who usually appears via video link from Hakea Prison, made a rare appearance in person for a directions hearing in the Supreme Court of Western Australia on Thursday.
As he sat in the dock, a member in the public gallery yelled, "Edwards burn in hell with Satan, you're a dog" before she was escorted away by security.
Mr Edwards raised his eyebrows as the woman shouted, but did not turn to face her.
During the hearing, details of the proposed evidence which will be argued on the basis of admissibility before trial was revealed.
No words are capable of describing what you will see in that material.

State prosecutor Carmel Barbagallo SC
It includes propensity evidence, evidence relating to women's clothing, evidence from Hollywood Hospital and a Telstra witness, as well as pornography.
State prosecutor Carmel Barbagallo SC requested Judge Stephen Hall watch the pornography evidence, as a description of the vision was not adequate.
"So far as the movie is concerned, Forced Entry, when one views that movie … that movie, it's very graphic … what is done and how it is done which we say impacts on what your Honour has to determine," she said.
"No words are capable of describing what you will see in that material.
"We're talking about pornography that is extreme."
Defence lawyer Paul Yovich will argue the pornography evidence is inadmissible.
Despite Mr Yovich also arguing Justice Hall did not need to view the material to decide if it was admissible, the judge indicated he would do so.
The judge will also watch all of, or parts of, a six-hour police video interview with Mr Edwards.
A three-day directions hearing, due to start Thursday, has been postponed until Monday due to some factual evidence still being in dispute between the two parties.
The hearing was also delayed as the state prosecution provided new evidence relating to a new witness and a prison call to the defence on Wednesday.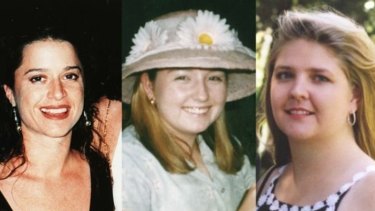 Family members of the victims and detectives were in court for the hearing.
Mr Edwards, a former Little Athletics volunteer, is due to face trial in July.
He was arrested by WA Police at his Kewdale home in December 2016 and is expected to remain in custody until the completion of the trial, which will take around eight months.
The bodies of Ms Rimmer, a childcare worker, and Ms Glennon, a lawyer, were discovered in bushland weeks after they were killed, but the body of Ms Spiers, a secretary, has never been found.
All three women were last seen in the Claremont entertainment strip in Perth's western suburbs after a night out.
Heather McNeill covers breaking news with a focus on crime, courts and Aboriginal affairs for WAtoday.